The last couple of months, Belongg focused on bringing together events focused on the themes of diversity, inclusion, discrimination, and identity, more than ever before. We believe that it is essential to spark conversations around discrimination and increase understanding, compassion and empathy among people in an increasingly divisive world.
QUEER LOVE & INTIMACY POETRY AND STORYTELLING: We began March 2020 with a poetry and storytelling event on queer love and intimacy which we held in partnership with Queer Listening Circle, at What A Comic Show in GK-2 M Block Market. Several people from the LGBTQIA+ community and otherwise read out their poems and narrated their soul-stirring stories to a large group of people, thereby creating safe spaces to hold such discussions.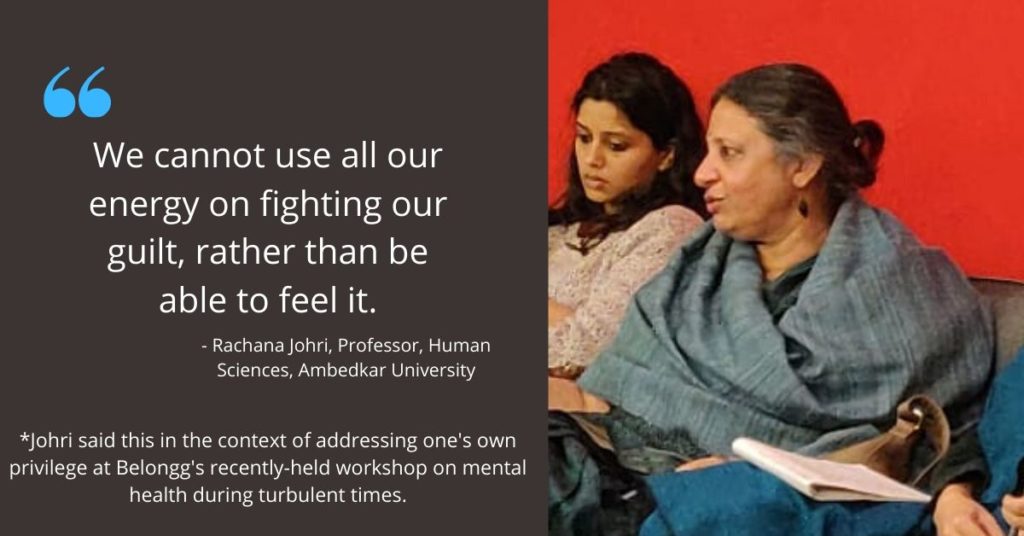 BELONGG MENTAL HEALTH COLLECTIVE: MENTAL HEALTH WORKSHOP ON RESILIENCE DURING TURBULENT TIME: On 9th March, we held a mental health workshop that focused on maintaining sustained resilience and strength and empowering oneself during turbulent times. It was facilitated by Ambedkar University professor Rachana Johri, assistant professor Deepti Sachdev and mental health expert Urvashi Agarwal.
We also held panel discussion with 8 panelists to launch the Belongg Mental Health Collective that addresses mental health and identity-based discrimination.
BUST YOUR BIAS: We organised three online webisodes of 'Bust Your Bias', a fortnightly online show in which Belongg will address myths and stereotypes faced by different communities. Our first episode was on trans* identities and inclusion, which was facilitated by Sai and Taksh. Our second episode was on India's northeast and discrimination, facilitated by researchers and professors Leki Thungon and Ngurang Reena, and hosted by Sai. Third episode was on caste discrimination in India with Divya Kandukuri and Jyoti Nisha.
AUTHOR READINGS: The Belongg Book Club and Library is hosts author reading sessions twice a week. We feature authors who have written about themes such as identity, discrimination, bias and prejudice. Some of the authors we did sessions with include journalist and author Shuma Raha, feminist author and activist Kavita Krishnan, Madhavi Menon, Nazia Erum, Jonathan Gil Harris, and Alf Gunvald Nilsen among others.
BOOK READINGS BY RUKMINI KUMAR: Every week, renowned editor Rukmini Kumar hosts book reading sessions online for our Belongg Book Club and Library. Her sessions include readings from works by David Whyte, Mary Oliver, Alice Walker among others.
CORONA AND MENTAL HEALTH; CORONA AND DISCRIMINATION: The Belongg Mental Health Collective held an online event, facilitated by mental health expert Hena Faqurudheen from HNI, Delhi and Pampak (Manipur-based therapist) to facilitate a session to address issues such as isolation and discrimination during the COVID-19 crisis. We also held an online event where people shared their stories, opinions and experiences about the increasing instances of discrimination during the COVID-19 season.
Belongg is hosting regular events around books, mental health and identity. To stay updated, follow us on social media channels or write to us on contact@belongg.net to join email subscription list.