We spoke to Asifya Rahman about her latest book Wild Card, which tells the tale of a daughter and father and the challenges they encounter.
Asfiya Rahman, a management graduate, is a teacher by occupation and a writer by inclination. She has published many short stories and is the author of the Wild Card sports drama trilogy. She is an avid reader and loves to travel. You can follow her on social media @doonwriter 
Q1: What is the basic idea behind the Wild Card series. As we know, sports is the central theme; how do you work around this to write your story?
The Wild card series is about relationships, perseverance and dreams. For me that is the primary aspect and tennis is just the backdrop to the story.  We started this trilogy with the intention of telling the stories you never read about. The first book is primarily the story of a single father, the second is about the struggles females face to live their dreams and the third is about a girl who just wants to live her life. 
Tennis is what connects all three.
Q2: Wild Card 3 recently released and it tells the story of the father-daughter duo Roshni Mehrotra and Karan Mehrotra. Can you give us a brief description or rather update on what happened in the first 2 books in the series?
Wild Card is the story of Karan Mehrotra and his eight year old daughter, Roshni. Karan was a famous tennis player who left his career behind to take care of his paraplegic daughter. When Roshni finds out that her father had won every grand slam, apart from tennis she pushes him to win it for her, reminding him that he always tells her nothing is impossible. Karan realizes that it's easy to tell others to overcome their difficulties but if he wants Roshni to believe in herself he has to show her that you have to fight for yourself.
Wild Card 2 is the story of Tahira, a young female tennis player who helps Karan in his quest at Wimbledon in the first book. She is a talented player but is told to be realistic about her life; but dreams are not meant to be practical and she fights for a chance to live her dream of being a professional tennis player.
Q3: Can you tell us more about the character of Roshni Mehrotra, her identity, challenges, and dreams? 
If I could describe Roshni in one word it would be spunky. She is a girl who has been in a wheelchair all her life but thanks to her father she doesn't see it as a disability. It's just a part of her life. Like every teenage girl she wants to live her life on her own terms. She wants to make new friends, hang out with them and hates the fact that society slots her according to her wheelchair and not the person that she is.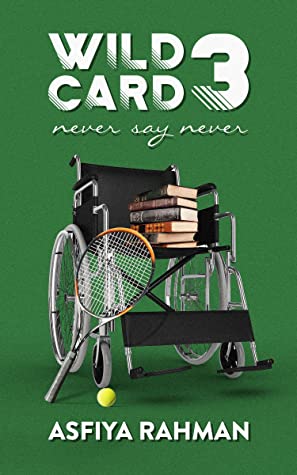 She is very independent, very loyal and has a great sense of humor.
Q4: What kind of research did you do while writing Wild Card 3? 
For Wild Card 3 I had to concentrate on Para tennis. I was unaware that there is a thriving tennis circuit for wheelchair players. In fact very few of us would know that tournaments are conducted even in India. I did research on the rules and qualifications, etc. and watched many matches especially the wheelchair matches in Wimbledon and let me assure you these matches are just as nail biting as the regular matches.
There are many talented Indian Para tennis players but sadly most of them do not get the financial support they need.
Q5: What do you think is the importance of representing and talking about stories that are not usually told through books? 
I love to read and as a reader I look for books which tell me about different aspects about life. I think representation is very important in books because it helps people relate to different realities. Most people live in their own little world and books can help expand their thinking; help them realize that their reality is not the only reality. It makes people more aware and more sensitive and I think it helps build empathy as well.
You can buy a copy of Wild Card 3 here