Associate, Belongg Book Club & Library
"A book club is one of the only pieces of evidence we have that people are still thinking." Adapted from Jerry Seinfield.
"We all should know that diversity makes for a rich tapestry, and we must understand that all the threads of the tapestry are equal in value no matter what their color." Maya Angelou


"We have become not a melting pot but a beautiful mosaic. Different people, different beliefs, different yearnings, different hopes, different dreams." Jimmy Carter
Context
The world can be a very unwelcoming place for millions of people simply because of their sexuality, gender, religion, caste, or even how they look. Deeply held prejudices lead to a whole spectrum of discrimination that shows up as subtle intolerance on the end to violent hate on the other.
One of the consequences of these prejudices and discrimination is that millions of people get severely compromised access to housing, jobs, healthcare, education simply because of who they are.
About Belongg
Belongg is a social venture with a vision of harnessing the power of community across cities and bringing people together for greater inclusion and diversity. Seeks to bring better services to these underserved groups through a community-based approach that brings together allies and people needing services.
The founders and early investors in Belongg have significant experience in social impact and a deep desire to create more inclusive societies. They include, among others, Partners at Dalberg Advisors and other leading design firms in India.
You can find out more here: www.belongg.net / www.twitter.com/houseofbelongg/ https://www.facebook.com/belonggcommunity/
Associate, The Belongg Book Club & Library
The Belongg Book Club & Library bring a carefully curated (and growing) set of fiction and non-fiction books on themes such as feminism, gender, sexuality, caste, race, immigrants, religion, prejudice, and bias. You can look at some of the books in our collection here: http://belongg.libib.com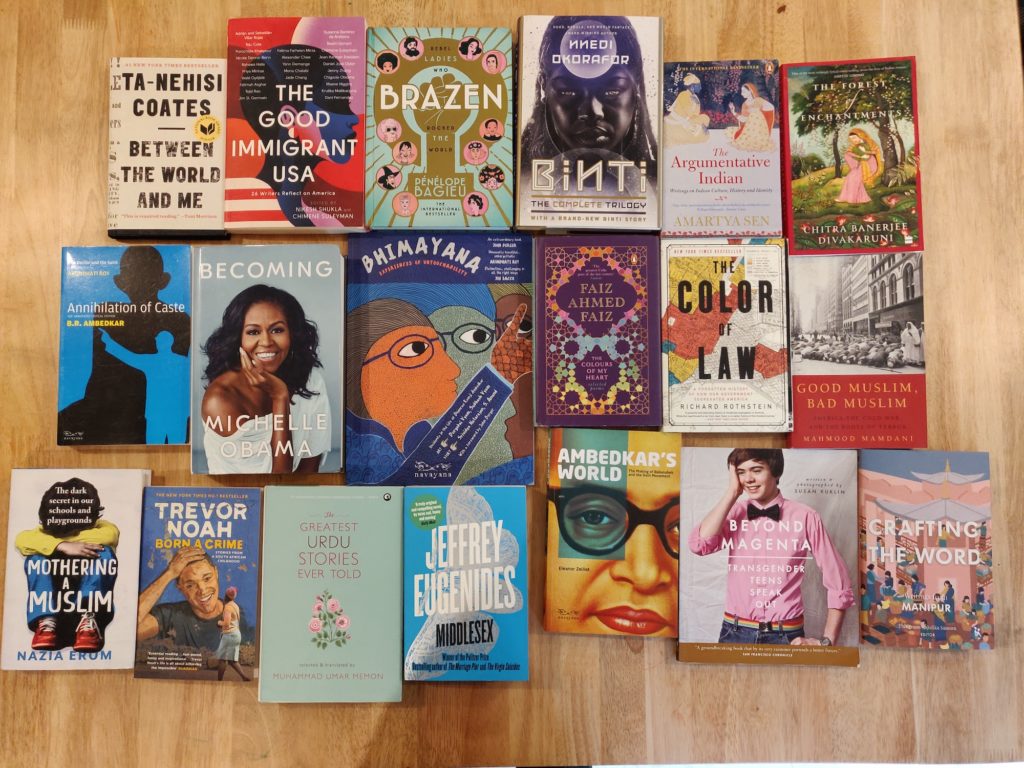 Figure 1: Some books from the Library
The Book Club & Library has been active in Delhi for the last few months and will be expanding across different cities going ahead.
We are looking to hire a talented Associate for the Belongg Book Club & Library as it expands both across NCR and other cities in India.
The full-time role would involve the following:
Managing the BBCL in Delhi through the addition of new titles, engaging with library members to schedule book deliveries and growing the base
Helping with Belongg Book Club events and outreach through coordinating interviews with book authors, readers, and experts on the themes that the Book Club focuses on
Planning and executing community engagement and social media activity to grow the Book Club in Delhi and also coordinating with the book club volunteers
Participating in partnerships with publishing houses to bring new titles to the Club
Supporting the expansion of the Book Club & Library to newer cities
Qualifications we are looking for include
A track record of and a deep interest in diversity & inclusion and working on issues related to gender, LGBTQ rights, equity for religious and caste-based minorities, immigrant rights. This should be a clear passion for you.
An undergrad or graduate degree in literature, arts, history, film studies, cinematography, or related fields from a leading college
At least 1-2 years of experience in a formal setting ideally in a publishing house
A deep passion for books with voracious reading (both fiction and non-fiction) and deep curiosity. This is non-negotiable.
Previous work experience in social media, especially Twitter & Instagram will be very helpful
Previous experience in running a book club will be very useful as well
Excellent verbal and written communication skills. These are non-negotiable
Evidence of independent writing and being published would be an added plus
A vibrant presence on social media across channels such as Twitter, Instagram, Pinterest would be very useful
Most importantly, we are looking for a self-starter who is comfortable in startup environments and sees this opportunity (both the mission of the company and the role) aligned to their long term goals.
The position is based in New Delhi. If this sounds interesting, please write to contact@belongg.net with a thoughtful cover letter & CV with "Associate – Belongg Book Club & Library" in the subject line.
We look forward to hearing from you.