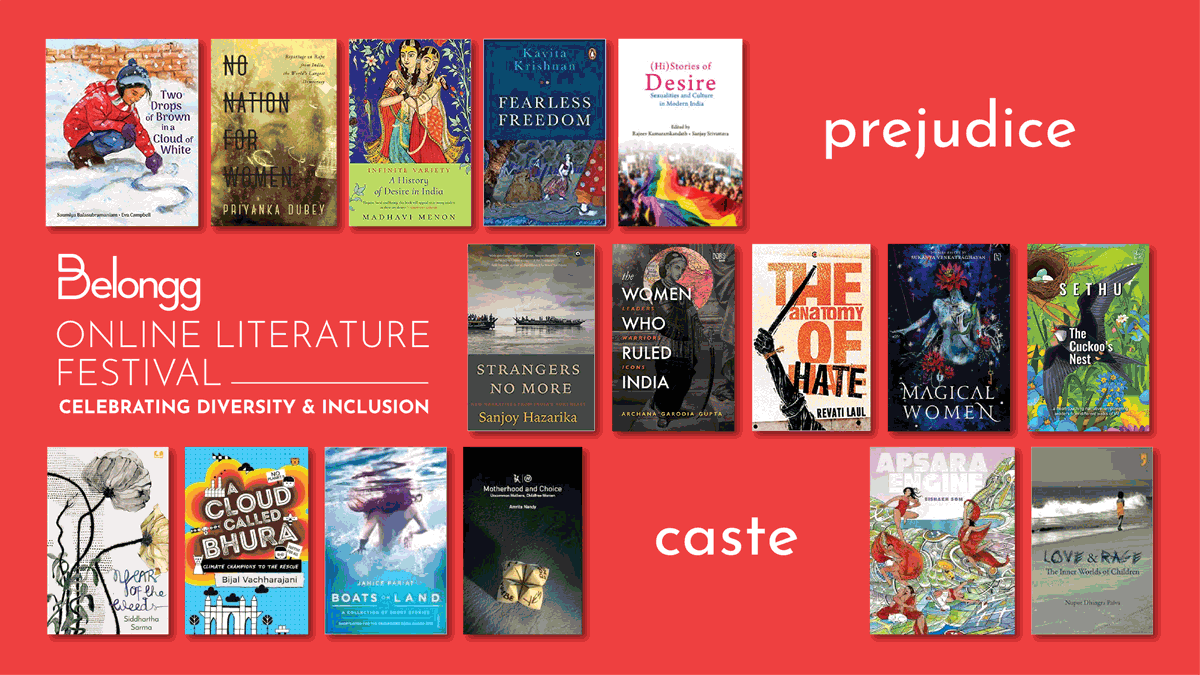 Belongg, in partnership with The Wire, is pleased to announce the Belongg Online Literature Festival (BOLF) which will take place between the 3rd and 6th of July.  BOLF will feature over 75 speakers who have written, illustrated, translated, and published books on themes of gender, sexuality, race, religion, caste, ethnicity, disability, inclusion/exclusion, and prejudice/bias, and will seek to foster important conversations on inclusion and diversity. 
More details, and the passes, are available on the Festival website: https://belongglitfest.com . 
For Belongg, a social venture that seeks to bring discrimination-free services to people who face identity-linked discrimination, literature has always been a really special medium that enables empathy and  imagination,  nurtures tolerance and  diversity. In addition to the weekly book readings on our social media channels, we wanted to create a much larger format that would enable conversations that cut across gender, sexuality, race, ethnicity, caste, religion, disability and other such markers of identity during this critical time. 
 "My author session with Belongg was one of the most stimulating, generous, and skillfully moderated discussions that I've had about my book. I cannot think of a better organization to host an online literature festival on discrimination & inequality, inclusion and belonging." — Ajantha Subramanian,  author of The Caste Of Merit and Professor of Anthropology and South Asian Studies at Harvard University, USA
A few days of dreaming and many weeks of effort later, the idea has been brought to life.   We are very pleased to announce the launch of the inaugural edition of the Belongg Online Literature Festival (BOLF), hosted in partnership with The Wire as our media partner. 
"The Wire was founded with a firm commitment to public interest and democratic values, and any society aspiring to be a just and progressive one must place conversations around diversity, identity, & inclusion at centre stage. Partnering with the Belongg Online Lit Fest – a path-breaking effort by the Belongg team – was a natural outcome of the commitments we've made to our readers and viewers. We hope our role as a megaphone in this partnership will help amplify the very vital dialogues that happen at the BOLF." — Siddharth Varadarajan, Founding Editor of The Wire.  
The BOLF will have 30+ sessions structured as interactive panel discussions, interviews, and audience contests. Programming the BOLF has been an exciting but challenging process: Each of the identity markers that Belongg cares about–gender, race, sexuality, religion, ethnicity, disability, caste – as well as the underlying processes of inclusion and exclusion that cut across these identities are multifaceted and can be interpreted in a hundred different ways. Many hours were spent developing a program that balances thematic depth with interesting contrasts and tensions that cut across identities and themes. 
We invite everyone to engage with the BOLF content on the websites and social media channels of Belongg & The Wire. The BOLF schedule will be released shortly.  A detailed list of speakers can be accessed and passes bought through links on the website as well. A limited number of free passes are also available. 
We are extremely proud of and humbled by the speakers and publishers who have partnered with us on this inaugural venture. We are so excited to have them on-board and cannot wait to have the BOLF begin. 
"Belongg truly believes in the power of literature and the arts to provoke thoughtful conversations around questions of identity and inclusion and, in the end, change hearts and minds, without which discrimination and prejudice cannot be addressed at all." — Nirat Bhatnagar, Founder of Belongg
The first half of 2020 will go down as one of the most turbulent and troubling times in recent memory, with the virus exposing deeply held fractures in the social fabric. At such a time, we hope the BOLF shines a light on important questions and reminds us of the glorious possibilities of building a more inclusive world. 
About Belongg
Belongg is a social venture that seeks to bring discrimination-free services to individuals who would otherwise face prejudice and bias due to their identity: gender, race, sexuality, religion, caste, ethnicity, disability, & relationships. Belongg runs an Inclusive Housing Rental platform, an Inclusive Mental Health initiative, and an Inclusive Literature initiative. 
About The Wire
The Wire is an award-winning news organisation and one of India's foremost news-sites, carrying critical opinion, investigations and reportage.