In a world that is deeply divided along lines of identity, inclusive literature and books provide windows into the lives, struggles, and joys of others, thereby enabling empathetic engagement with and inclusion of those different from ourselves. Diverse literature, thus, is key in amplifying diverse perspectives to create a truly inclusive society. Through the Belongg Literature Collective, we built a platform that harnesses the power of inclusive and diverse literature to promote greater understanding, acceptance, and mutual appreciation across the world.
Download UnOther today on your Andoird Phones. iOS version coming soon!
UnOther by Belongg is a mobile app that brings together 15-minute insights from leading books authors, and thought leaders on feminism, gender & sexuality, race, caste, disability, faith, and even prejudice and bias. Become a member to get access to a growing collection of book summaries and interviews. Every month, we add approximately 15 books and authors to the app to make sure that your understanding of diversity and inclusion keeps on growing.
Features
– Read 15-minute book summaries and reviews
– Read interviews with authors and publishers on these topics
– Participate in community reading challenges
– Request author readings and events
– Join the Belongg Library Network
– Listen to podcasts by thought leaders and authors (upcoming)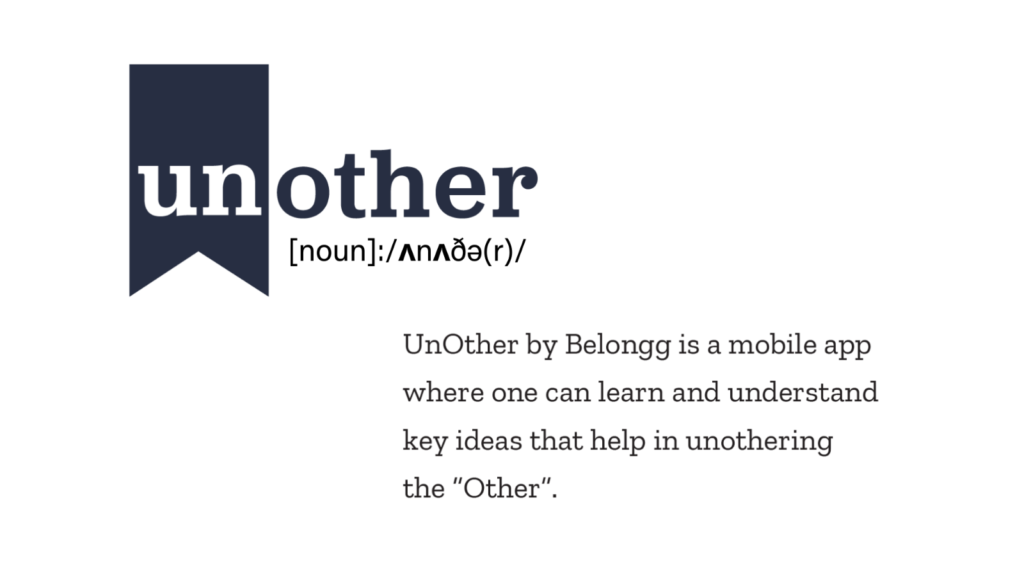 Inclusiveness & Passing-The-Mic
UnOther believes strongly in passing-the-mic: a large fraction of the content on UnOther is created by writers and collaborators who have the lived-experience of marginalized identities (in terms of their gender, sexuality, race, caste, faith, or disability). We also bring insights from books by high-quality independent publishing houses and authors.
Subscription plans
UnOther offers four different subscription plans that allow you to access different levels of content and features on the app. The plans are affordably priced and we also offer special discounts for students.
Terms & conditions. For more details on our terms and conditions and our privacy policy, please read these links.